Wiscon Revamps, Doubles Revenue, Employment
While some companies are slowly climbing out of the recession, one local manufacturer has already done it, at rocket speed.
Wiscon Products, 5022 Douglas Ave., manufactures high-volume, high-precision parts. Many are made for ThyssenKrupp of Germany, a systems supplier to numerous automotive manufacturers. Wiscon parts end up in vehicles and machines made by General Motors, Kia Motors, Harley-Davidson, Caterpillar subsidiary Anchor Coupling and more.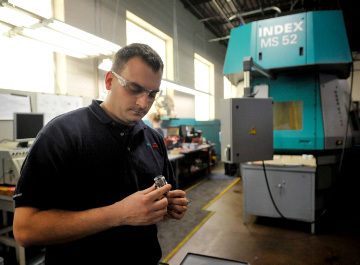 Already, the third-generation Wiscon is beating its pre-recession revenues and has more than doubled its work force since 2008, company President Torben Christensen said.
He expects that employment growth to continue and, with assistance from Racine Economic Development Corp., Wiscon was awarded up to $70,000 in state job-creation tax credits. The credits are partly based on Wiscon's plans to create 18 new jobs in the next three years.
Numbers help tell Wiscon's recent story:
The owners, the Rolfe Christensen family, have invested more than $5 million in new equipment in the past 3½ years, Torben Christensen said.
After dropping from $4.2 million in annual revenue to $2.2 million when the recession hit, Wiscon will hit about $5 million this year, Christensen said.
From 14 employees in 2008, Wiscon now has 31 employees. Christensen said 18 is a conservative estimate of how many more workers Wiscon can add in the next three years.
---
Beyond 'Comfortable'
For many years, Torben Christensen said, his father and uncle were content with steady revenue that usually varied by no more than 10 percent.
"They had a very good company, they were comfortable and they were not looking to grow," said Christensen, who joined the family company in 1999.
But he had a different business philosophy. 
"I don't feel there's any 'steady' anymore — you're either growing, or you're failing," he said.
"In the (economic) downturn, we did an aggressive restructuring of management systems and our quality department."
Instead of two brothers running the company, Wiscon now has departments, divisions and people with specific responsibilities, Christensen explained.
"I call it going from 1985 to 2015 in about six months," said Christensen, 32. "I want a company that's stable with or without me."
---
'Advanced Manufacturing'
Christensen calls what Wiscon does "advanced manufacturing," making complex parts that go directly into motors.
"Our customers install them directly into cars without inspecting them," he added.
Wiscon's parts are not all for vehicles. For example, the firm makes ratchet drives for Stanley socket wrenches, and systems for home solar modules by Zep Solar of California.
To go beyond the capabilities of the typical screw-machine shop, Christensen said, Wiscon invested in the finest computer numeric control, screw machine technology.
"It's like a screw machine on steroids," he said. "It makes very complex parts at very high volume."
By January, Wiscon will be using a robotic inspection cell, Christensen said. It will perform "100 percent" inspections, giving each part either a green light — it's perfect — or a red light, "and it goes in a bucket," Christensen said.
Much bigger companies are making the same kinds of parts as Wiscon Products, Christensen said.
"I'm doing it a little bit different, and our customers are loving what we've done."