Where High Productivity Meets Production
CNC lathe technology has evolved to do it all!
When a family-owned contract precision machining shop is able to run three shifts producing a variety of flat and shaft-type parts like hydraulic components, powered hand tool parts, oil field parts—an eclectic mix of complex parts and challenging materials—it's fair to wonder how they do it with today's advanced turning technology. For Wiscon Products Inc. (Racine, WI), the solution was found in investing more than 30% of total sales in new equipment. The company's equipment includes three multispindle CNC lathes and six C Series automatic lathes from Index Corp. (Noblesville, IN).
The six-spindle CNC MS52 features a 52-mm bar capacity and 100-mm chuck capacity for producing complex chucking-type parts in medium to high volume. The open-front machine design concept is a result of the absence of the end slide tool carrier and the opposed headstock. This allows the integration of a load/unload robot, significantly improving throughput, ease of setup and changeover.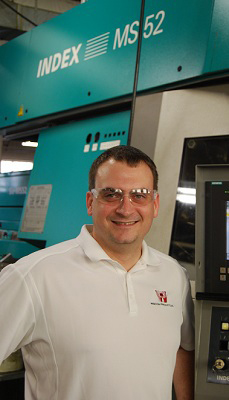 "We run more than 500,000 automotive camshaft end pieces on the MS52 with the robot unload/inspection cell. The parts are machined complete, deburred, cleaned, the thread 'poke-yoked' and put into a vision inspection system to capture 22 different characteristics, inspecting for 105 different print features with part positional tolerances of 20 µm," said Torben Christensen, president. "The result is zero ppm rejection rates from the customer, every day. We actually package these and ship them to China for our customer's car manufacturing facility there. They are confident they can just put our parts in and they will be good," said Christensen.
"Our machines today are designed with flexibility to minimize the costs and headaches that have traditionally been associated with part changeovers, including upfront planning, special tooling, special fixturing," said Jeffrey L. Reinert, Index president and CEO. Index machines include the MS series multispindle machines, R200 turning/milling machine, Traub TNL series Swiss machines, and the C Series multitask automatic lathes for bar from 42 to 90-mm diameter. "Machine design minimizes all of those typical costs by using standard carbide inserts, off-the-shelf tooling or drills. You don't have to get a lot of special tooling, form tools or toolholders. Quick-change collets are standard so they're easy to change, and tooling can be preset off-line while the machine is running the previous job," said Reinert.
"The net result is that costs are low and downtime between jobs is minimized. The customer gains flexibility and higher productivity, and the customer can produce parts and get them in and out of his plant faster, meeting JIT requirements and improving cash flow," said Reinert. Index has introduced liquid-cooled spindle carriers to its multispindle lines. The technology, which takes heat out of the machine and sends it outside the building in summer and uses it for heating the facility in the winter, is credited with improving machine stability and lowering energy costs.
---
Taking the Next Step from Two-Axis CNC Lathes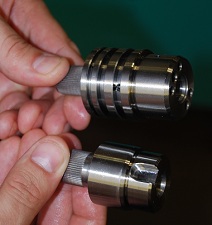 It wasn't too long ago, maybe a generation or so, that basic two-axis CNC lathes were all the rage as the latest and greatest in shops. There still is demand for these machines today for many applications, including simple turning prep operations for shorts runs of 200 or 300 parts in job shops, or even in high-volume automotive shops where multiple machines may be dedicated to doing simple repetitive operations. Machines don't necessarily feature a whole lot of bells and whistles and are available in linear guide and boxway versions with manual tailstock or with a servo-driven tailstock on some models, for easier, quicker setups.
"Lower volume component manufacturing is a significant requirement we are currently addressing, and setup time is a big factor for every manufacturer involved—whether a job shop or an OEM," said Richard Parenteau, director of applications development and Nakamura-Tome product manager at Methods Machine Tools Inc. (Sudbury, MA). "Feeler FT-Series CNC lathes with milling include servo-driven tailstock which can be quickly and easily programmed to move to the next position. From there, the next big step up is into multitasking platforms that can deliver aggressive cycle times, as well as significant reduction in setup times, for low-volume production across the board," said Parenteau.
"The new Nakamura Tome NTJ-100 multitasking turn/mill center with an indexing B-axis upper turret reduces chip-to-chip time to around 1 second, compared with the 6–7 seconds of a B-axis ATC toolspindle milling unit," said Parenteau. "The swiveling B axis on the NTJ-100 has a range of 182° which is ideal for easily producing angular features, eliminating the requirement for expensive angle milling heads."
Increasing productivity even further, a three-turret machine offers additional benefits over a two-turret system. "With the introduction of the Nakamura-Tome Super NTY3-250 we are able to offer a multitasking turning center with three turrets having even greater performance and capabilities," Parenteau said. "The new NTY3-250 has three high-rigidity turrets, each with a Y axis of 4.4″ (112 mm)—the longest Y axis in its class. The NTY3-250 dramatically outperforms two-turret multitasking machines and can eliminate downtime due to tool changeovers with its 72-tool capacity. This allows for short cycle times and complete turning/machining/finishing capabilities."
---
B Axis Makes Five-Axis Turning Possible
"One of the elements that I find particularly exciting is the advent of five-axis turning," said Greg Hyatt, chief technical officer, DMG / Mori Seiki USA (Hoffman Estates, IL). "We normally think of turning as a two-axis process, and, in fact, there were some subtle enhancements that came with the addition of a Y axis, because some lathe tools like to turn a little above center or a little below center. That gave us CNC control of center so that we didn't have to shim tools and could program or offset the height of the tool.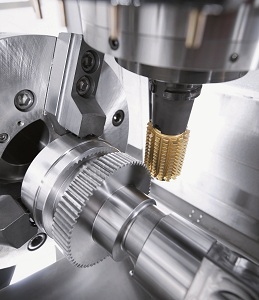 "But what's really dramatic on mill/turn machines is a B axis that rotates during turning. Rotating the B axis does several things for us. As we're sweeping through convex or concave radii, we don't change the point of tangency between workpiece and the cutting tool so that the point of tangency remains the same. This leads to some potentially dramatic advantages depending on the application. For example, the same great finishes and higher feed rates that wiper inserts produce on simple cylindrical surfaces and faces are now possible for complex surfaces. When the B axis is rotated, it keeps the wiper engaged with the workpiece," said Hyatt.
Two additional benefits of a rotating B axis involve chip control and nozzle control in high-pressure coolant systems. "Insert chipbreakers are designed with the assumption that the chips are taking a certain path across that topography. As you change vector and swing through the radiuses, the engagement with the insert changes so that the vector and chip flow changes. The insert topography that may work on a cylindrical cut may not work on a facing cut or on the radius, leading to intermittent chip-control problems. When we rotate the tool with the B axis we keep the chips flowing across the topography of the insert as it was intended to so we take full advantage of the molded in or ground chipbreaker," said Hyatt.
"This is also important to take advantage of high-pressure coolant to break chips. Coolant nozzles are aimed with an assumption of where chips will flow. Rotating the B axis to keep the tool normal to the vector of the cut, prevents nozzles from ending up aimed at the wrong place, losing the benefit of high-performance, high-pressure coolant systems." DMG / Mori Seiki is using its CTX and NTX mill turns for five-axis turning.
---
Same Progressive Machining on Rear Side as Front Side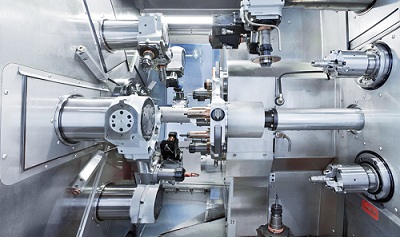 The SC Series of multispindle turning machines from Schütte (Jackson, MI) provide the user  with the ability to do the same progressive multispindle machining on the backside that is done on the front side without unclamping the part. "The SC Series has revolver turrets very much like a CNC lathe with multiple tools at each spindle position for redundant tooling and precision machining on the part," said C. James Trunk, president and CEO. "In the multispindle world for real production machining, the limiting factor to productivity and cycle time is always how much rear-side machining is required. It generally controls the entire process time. With the SC platform, and having multiple counterspindles with multiple tooling, we've taken that limitation completely off the table," said Trunk.
"The other challenge in the multispindle turning world is holding true position and concentricity in rear side machining. When we transfer the part from the front side to the back side for rear side machining, we do it by transferring the entire collet chuck, mandrel, or whatever holding fixture for the part is being used on the front side with the part clamped in it. We never release the part or unclamp it in any way. This enables us to pick up any feature that was done on the front side on the back side and hold perfect concentricity and true position. With multiple counterspindle positions, we have more than one backworking spindle working on the part at one time, enabling us to do progressive machining on the rear side," said Trunk.
The SC Series is available in four models; two with seven spindles and two with nine spindles for machining 32 and 46-mm diameter barstock. Typical applications are close-tolerance machining of difficult-to-machine materials for fuel injection, medical, power train components, high-precision shafts, gear blanks connectors and metal-to-metal sealing components for corrosion-resistant environments.
---
Riding on a Smooth Shifting, Fuel Saving Transmission
The automotive world is gearing up for an onslaught of fuel-saving eight, nine, and ten-speed transmissions by 2014. "Transmissions that shift within a narrow band of rpms are fuel savers and much desired today," said Bill Gore, regional manager, Fuji Machine America Corp. (Vernon Hills, IL). Fuji Machine is meeting the demand for machining hardened components for power drive trains with its ANS-3100P hard turning machine and integrated in-process and post-process gaging systems. These hardened components are essential for smaller engines, lighter components and higher performance with emphasis on weight saving and smooth shifting.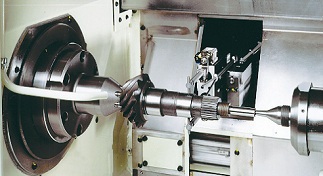 Hard turning is challenging traditional grinding processes with simpler and less expensive tooling requirements as well as automated tool change. The ANS-3100-P hard turning machine features in-process gaging built into the machine and post-process gaging of every part prior to coming out of the machine. "We are able to hard turn drive train components to tight tolerances without losing even one part to scrap using our dedicated in-process gaging system," said Gore. Each gaging system is designed and built to meet the specifications of the customer's specific part.
Here's how the in-process gaging works. "At some point the tool management system is going to indicate that it's time to index to the next redundant tool, because of insert usable life," said Gore. "At that point, we'll index to the next tool station, take the next insert tool and we'll cut the next part automatically allowing extra material for a finish pass. The in-process gage comes in, measures those features that are critical and the in-process gage signals the CNC control to adjust the tool offset. The part is then recut to size, the result is we don't lose any parts in the in-process gaging. The part in the machine is measured again to confirm meeting tolerance before it exits the machine. From that point on, production continues and all subsequent parts are monitored by the post-process gage, until it's time to repeat the in-process gaging," said Gore.
"It's important to remember that the in-process gaging enters the machine cutting zone automatically after the spindle stops during the cutting tool change phase. The in-line post-process gaging occurs during production continuously. The robot shuttles the finished part to the post-process gage, while the next part is being cut," said Gore.
"In some production instances Fuji is holding 2–3 μm of repeatability consistently. We're holding 1.5 C­­pk, on a total tolerance band of 12 μm. These tight tolerances are held day in and day out, in a three-shift production environment," said Gore. Both in-process and post-process dedicated gaging are designed, built and integrated by Fuji.
The benefits of the hard turning versus grinding can be found in cost of CBN grinding wheels, time to redress wheels in production, and the necessity to have as many different profiles in the wheel as there are profiles that have to be ground. "In this regard, single-point tools of the ANS-3100P provide accuracies and ability to hold the tight tolerances that the hard-turned components require and a significantly high  ROI," said Gore. ME
This article was first published in the July 2013 edition of Manufacturing Engineering magazine.
By Jim Lorincz, Senior Editor