Investment Pays Off For Contract Shop
This shop added a CNC multi-spindle to its operation and reduced its cycle time and setup time.
One of Wiscon Products Inc.'s customers came to them with what seemed like a normal request: Produce a few square drive ratchet wheels. So, using their cam-driven multi-spindles and gear hobbing machines, Wiscon did the job. It took five operations, starting with blanking the parts on a cam machine with high-speed tools.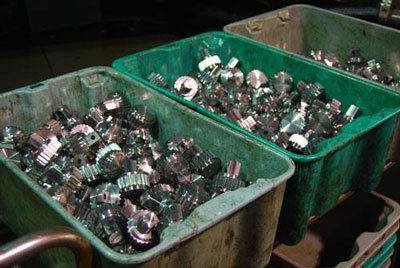 Wiscon (Racine, Wis.), founded in 1945, is a family-owned and operated contract precision machining job shop that is aggressively investing in equipment and improving. In the last 5 years, the company has invested more than 30 percent of its total sales in new equipment. With a highly skilled workforce averaging more than 15 years with the company, it produces a range of flat and shaft-type parts such as hydraulic components, powered hand tool parts, oilfield parts and even theater staging components.
The ratchet wheel parts requested by a customer were put in chuckers to complete the turning, then through a gear hobber to cut the ratchet teeth, then the flats were polygon turned, and a hole was drilled.
"But because the part is 4000 series alloy, the tool life was horrendous," recalls Torben Christensen, production manager. "And we could not hold the surface finish. It took 3.5 minutes of machining per part, not including handling time or washing," he says. "Just doing the initial trial parts, the process was OK, but then the customer gave a forecast, and it had 23 different part numbers and varying lot sizes totaling half a million pieces. We thought about using a turning line or cell to do this."
---
Taking the CNC Plunge
Mr. Christensen had a number of factors to consider. "Since I'm a 'multi' guy, with all the time on the New Britains, I had been looking at Index CNC multi-spindle technology, among others. The company sent us some cycle times in the 50-second range to do one part complete on the MS52. We didn't think they could do that. The part still had two turning operations, plus polygon turning plus drilling and hobbing, but it was done all in one chucking with the Index."
Mr. Christensen and his father, Rolfe, ran the numbers on the Index multi-spindle CNC, and although it was a big investment for Wiscon, they decided they had a job that was just right for the machine.
"When we had a chance to run the parts and optimize the process, we got the cycle time down to 36 seconds," Mr. Christensen says. "Because there is so much support of the bar in the MS52, we found we could feed it harder. With tool monitoring in the machine, we could tell when we were cutting air, so we knew when we could tighten it up."
Rolfe Christensen added, "Because of our background, we've been able to make very efficient use of the machine. We feel that someone else with the same machine might not be as efficient as we are with our parts."
Programming Helps Reduce Setup
From its customers, Wiscon gets a blueprint from which the company has to program. But Index's Virtual Machine programming system allows Mr. Christensen to program the machine on his desktop, just as if he were programming at the machine, simulating steps as he goes, and also evaluating cycle time and checking for possible tool interference. Macros are built into the Siemens control, further reducing programming time.
So when the program is uploaded to the machine, it is perfect and runs accurate parts from the start. Mr. Christensen feels this reduces initial setup time by as much as 85 percent. Going from a qualified part in the family to another qualified part in the family only takes 20 minutes.
---
Flexibility is Key
The company's multi-spindle features an IEMCA 52-mm bar loader, a three-axis SCARA robot and all options, making it a very versatile machine. "You never know what part will come in the door," Mr. Christensen says. The company expects more than a 10-year life cycle from this machine.
The open front work area, which offers operators ease of use, is made possible by the absence of the end slide tool carrier and the opposed headstock. The electrical system is relocated to the top of the machine.
The heart of the machine is the spindle drum, with the three-ring face tooth coupling mechanism. Six independent spindle motors allow optimum cutting speeds for each tool. This, in conjunction with two-axis contouring and programmable feed rates, means that Wiscon's part quality and chip flow can be easily controlled, which is essential for machining tough alloy and stainless steel materials, as on the ratchet drive.
The CNC tool carrier concept includes as many as 12 tool carriers; single-point OD, ID or live tools for drilling or milling may be used in any slide position; and as many as three ID tools can be mounted in a gang-style arrangement on any one of the two-axis slides.
Most spindle positions on the Index multi-spindle offer two-axis or four-axis machining capability. Since most slides are capable of CNC contouring, form tools are eliminated, and standard insert tools may be used in almost all positions.
A variety of live tool attachments can be mounted in any spindle position for polygon generating (even in stainless) and gear hobbing.
By using Index's tool monitoring system at Wiscon, Mr. Christensen has been able to tweak tool life and avoid cutting air, so part cycle time is entirely cutting time. "It tells us when the best time to change the tool is—a critical element to our success on this part," he says.
"The CNC is easy to work with; plain text is used in the display and operation, and the screen shows all spindles and axes at one view. More than 70 user routines offer practical support down to the finest detail," he adds.
As Mr. Christensen talked of the work coming through the shop, it was clear that he has a lot of enthusiasm for machining and is especially keen with putting new challenges to the CNC multi-spindles. As testimony, Wiscon recently placed an order for a second MS52.
"The capability of the machines—they can do almost any part in one chucking, plus the ease of programming with Virtual Machine and the service we get gives me confidence to take on many different jobs that we could not really consider before," he says. "It's also what sets us apart from 95 percent of the contract shops out there and gives us a big competitive advantage."